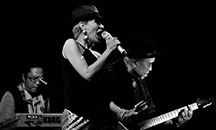 ESQIEF is a recording project, live performance and also a fellowship of music with an acoustic and electric vibe, with various contributors and different line-up in every albums or stage concepts. The group was formed in 2006, initiated by Syaharani in collaboration with Didit Saad, a guitarist, music director, arranger, recording engineer - mostly in Rock 'n Roll and Pop scene. The other member is a music supervisor and guitarist, Donny Suhendra. He's also a teacher and composer, mostly in Jazz scene.
Each of their albums have a colorful composition and lyrics, makes it freshly touching your ear, heart and mind. Regardless of the genre, they focus on simple arrangement yet effective. They also manage the idea of channeling the sublime of roots music into contemporary forms. The group was awarded "Best Band with vocal performance" in Jazz category by the AMI (Anugerah Music Indonesia) award in 2011.
Discography
Since they formed in 2006, ESQIEF has released three studio albums featuring numerous musicians and instrumentalist.