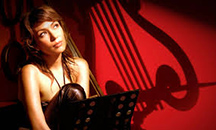 Known as Jazz singer with remarkable voice with warm husky vibes. She somehow chooses her own list for concert, a list of various genres always melting on her mindful character. As a live and session performer, she played with various international artists including Al Jarreau, Yellow Jackets, Michael Paulo, Dave Koz on their Indonesian Concert's, and was also collaborated with many Indonesian music icons such as Iwan Fals, Slank, Dian Pramana Poetra, Fariz RM, Erwin Gutawa, etc. In 2001, Syaharani was part of North Sea Jazz Festival representing Indonesia's delegation along with Ireng Maulana All Stars.
Syaharani has three solo albums, before she started her ESQI:EF and R2 project. A compilation album "Love" was released in 1999. Another solo album called "Magma" was released on 2002, but this is a different one, contains world music and a bit taste of Trip-Hop. Self-titled album "Syaharani" - released in 2004, was produced by Sandy-Sangaji Music Indonesia, all are live recorded at LionStudio Singapore with respected Jazz musicians from Indonesia such as: Bubi Chen, Oele Pattiselano, Jefry Tahalele, Benny Likumahua, Cendy Luntungan, also some Jazz fellows from Singapore and United States as well.
Apart of being a musician and a singer, Syaharani was also a model for product advertisement Johnson & Johnson Baby in 1988, and part of live musical play in "Madam Dasima" (1st role) & "Galery of Kisses" (2nd role) in 2000. In 2010, she released one handbook, titled "Life Stage Delight" via Gramedia Indonesia.
Discography
These are the albums she produced during 1999 to 2004: